Course details
On a special day ♪ 【Premium Course】 Cheers sparkling & Sirloin Steak with 9 items + 3 H [Drinking] 3500 yen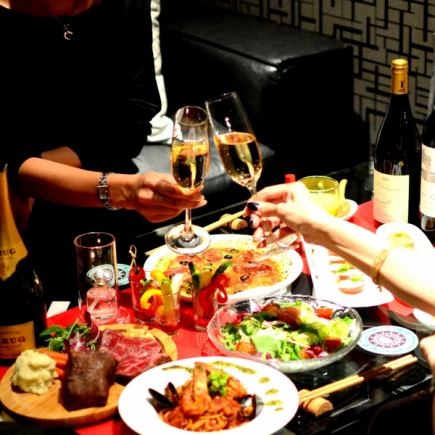 By using a coupon3500 yen
※ + 300 yen special message plate & photo frame & surprise with effect
All-you-can-drink available

All you can drink and glass wine! All kinds of cocktails are abundant! Black Isa to Pan Permus Grape !!
Reservation deadline

Until 22 o'clock on the desired date of coming to the store
Available days for reservation

Monday - Sunday - Public holidays - Holidays
Cheers sparkling gifts ♪ Directing an important day Girls' party want to talk about drinking slowly, such as anniversary day spending with important people ... Premium night in adult space ... ♪ Surprise with celebration + 300 yen for surprise Of course, I will also present it in the frame after the message plate or photo shoot! If 20 business days on a weekday, the complete charter is also OK so please do not hesitate to contact us as well.
Course menu
<Premium-Premium- Course>
■ Cheers ■
☆ Sparkling wine
■ Appetizer ■
· Grilled mashed potato & mozzarella cheese
·Salmon Carappcio
· Pickles of fresh vegetables
■ Salad ■
☆ Caesar salad
■ Today's soup ■
☆ Potage with fresh vegetables
■ PIZZA ■
☆ Using the best thing in the purchase of the day ...
■ PASTA ■
☆ Today's pasta (Please ask the staff)
■ Meat dishes ■
☆ Cow sirloin steak
■ Today's dessert ■
There is also possibility of change due to the relation of purchase ※ contents.
★ + 300 yen with the following benefits ♪
【For celebration such as birthday · anniversary! Introduce the flow of the day】
1. Enjoy delicious dishes ♪ filled with stomach ♪
2. The lighting in the shop disappears, music is applied ...
3. Hold the special message plate to the table and surprise it!
4. The protagonist is surprised & moved, the staff take a commemorative photo
5. On the way home, put the photo you printed out in a frame
Present as a protagonist ★
※ If you have any other direction for production etc., please do not hesitate to contact us ♪
All-you-can-drink menu
· Shochu
· Black Isa Nishiki, Island Shoumon
·beer
·Asahi Superdry
· Whiskey · Tequila
· High Ball, Tequila Tonic, Tequila · Sunrise, Tequila Cork
· Lamb · Wine · Via
· Lamb · tonic, lamb · coke, myers · cork, keel, wine cooler, chandigafu, mint beer, cassisvia
· Jin · Vodka
· Gin tonic, jin back, gin · grapefruit, jinlime, gin ricky, vodka tonic, screwdriver, moscommeureur, vodka lime, black rucian
·Non-alcoholic
· China Blue, Shanghai Lemonade, Mango Orange, Cherry Soda, Passion Orange, Cassis Orange, Grain Eyes, Gua Bapain, Coconut Pine ... etc.
·Soft drink
· Orange juice, grapefruit juice, pine juice, cola, ginger ale, oolong tea ... etc.
·liqueur
· Fuzzy Negble, Peach Oolong, Peach Cranberry, Shanghai Lemonade, Chiba and Lotonic, Pan Permusse Grape, Banana Milk, Campari Grape, Mango Yang Orange ... etc.
Coupons that can be used with this course
2018/12/20 update