Course details
Sun - Trees for women only! 【Night Cafe SET】 Salad + Selectable Main + Dessert + 1 Drink ⇒ 1500 yen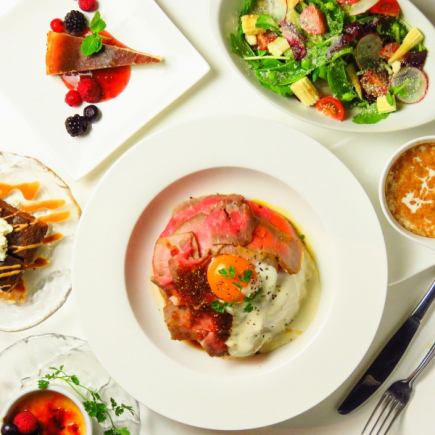 1,500 yen
※ When ordering "I saw a hot pepper" 2000 yen equivalent 1500 yen ※ + 300 yen with surprise benefits
Reservation deadline

Until 22 o'clock on the desired date of coming to the store
Available days for reservation

Monday - Thurs, Sundays, Holidays
Delicious cuisine is popular for trendy interior 【Jasmine Cafe】 Night Cafe SET ♪ Homemade roast beef bowl has been added to the main menu! Salad with main course of 1500 yen (with charge included), main menu for dessert, even alcohol is OK About drinks This price is profitable ☆ More + 300 yen with surprise benefits! Please use even celebration.
Course menu
● 1 drink
«Non-alcohol, alcohol is OK»
● Fresh salad
● Main choice
«You can choose from the following»
○ Pasta ~ pasta ~
· Crispy Bacon's Peperoncino
· Pescatorle of the Ocean
· Seafood tomato cream
· Happy Carbonara
· Boronese of eggplant and ground meat
· Fried soup paste of plum and large leaves
· Mentaiko cream pasta
○ Pizza ~ Pizza ~
· Special seafood pizza
· Chicken's Wasabi Mayo Pizza
· Teriyaki chicken double cheese pizza
· Mozzarella and fresh basil pizza <Margherita>
· Raw ham warm balls and cheese pizza
○ the others ~ Rice
· Jasmine special cooked bonito
· Western food store's omelet rice
NEW! · Homemade roast beef bowl
· Chicken Doria
·Loco Moco
· Ochazuke <plum or shake>
· T ★ K ★ G <Egg Kode Rice>
● Today's dessert
★ + 300 yen with the following benefits ♪
【For celebration such as birthday · anniversary! Introduce the flow of the day】
1. Enjoy delicious dishes ♪ filled with stomach ♪
2. The lighting in the shop disappears, music is applied ...
3. Hold the special message plate to the table and surprise it!
4. The protagonist is surprised & moved, the staff take a commemorative photo
5. On the way home, put the photo you printed out in a frame
Present as a protagonist ★
※ If you have any other direction for production etc., please do not hesitate to contact us ♪
2018/11/21 update