Course details
Sun - Tree Female Limited 【Night Cafe SET】 Salad + Selectable Main + Dessert + cafe 90 minutes [Drinking] ⇒ 2000 yen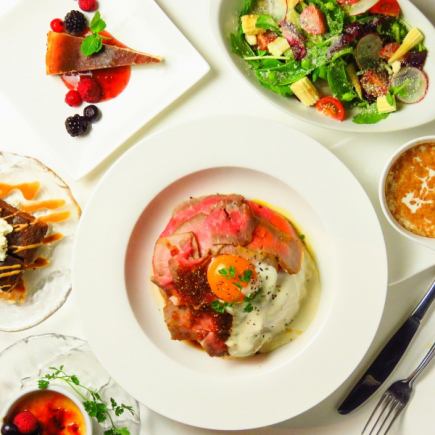 2000 yen
※ + 300 yen special message plate & photo frame & surprise with effect
All-you-can-drink available

90 minutes / cafe menu enhancement ♪
Reservation deadline

Until 22 o'clock on the desired date of coming to the store
Available days for reservation

Monday - Thurs, Sundays, Holidays
Delicious cuisine is popular for trendy interior 【Jasmine Cafe】 Night Cafe SET ♪ Homemade roast beef bowl has been added to the main menu ★ 2000 yen (with charge included) salad, main menu to choose from, dessert, coffee and flavor latte etc. Cafe menu is all you can drink ♪ It is perfect for evening lunch and cafe use ◎ Further + 300 yen with surprise benefits ♪ Please also use for celebrations.
Course menu
● cafe All you can drink
«OK as well as soft drinks, coffee and tea etc ♪»
● Fresh salad
● Main choice
«You can choose from the following»
○ Pasta ~ pasta ~
· Crispy Bacon's Peperoncino
· Pescatorle of the Ocean
· Seafood tomato cream
· Happy Carbonara
· Boronese of eggplant and ground meat
· Fried soup paste of plum and large leaves
· Mentaiko cream pasta
○ Pizza ~ Pizza ~
· Special seafood pizza
· Chicken's Wasabi Mayo Pizza
· Teriyaki chicken double cheese pizza
· Mozzarella and fresh basil pizza <Margherita>
· Raw ham warm balls and cheese pizza
○ the others ~ Rice
· Jasmine special cooked bonito
· Western food store's omelet rice
NEW! · Homemade roast beef bowl
· Chicken Doria
·Loco Moco
· Ochazuke <plum or shake>
· T ★ K ★ G <Egg Kode Rice>
● Today's dessert
★ + 300 yen with the following benefits ♪
【For celebration such as birthday · anniversary! Introduce the flow of the day】
1. Enjoy delicious dishes ♪ filled with stomach ♪
2. The lighting in the shop disappears, music is applied ...
3. Hold the special message plate to the table and surprise it!
4. The protagonist is surprised & moved, the staff take a commemorative photo
5. On the way home, put the photo you printed out in a frame
Present as a protagonist ★
※ If you have any other direction for production etc., please do not hesitate to contact us ♪
All-you-can-drink menu
·Soft drink
· Orange juice, grapefruit juice, pine juice, cola, ginger ale, oolong tea ... etc.
· Cafe
· Coffee / tea / Jasmine tea etc.
2018/11/16 update