Course details
Fifteen vegetables shortage ★ 【Tomatoes of 15 kinds of materials «Tomatoes» Cheese Fondue Course】 All 5 items + 3H [Drinking] ⇒ 3000 yen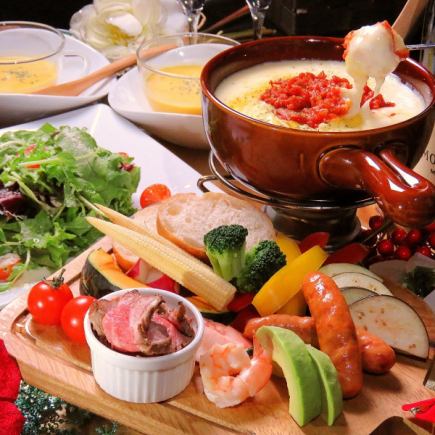 By using a coupon3000 yen
※ + 300 yen special message plate & photo frame & surprise with director ※ Men are + 500 yen
All-you-can-drink available

【★ Glass wine is all you can drink ★】 Variety of cocktails are available! Black Isa to Pan Permus Grape !!
Reservation deadline

Until 23 o'clock the day before the store visit date
Available days for reservation

Monday - Sunday - Public holidays - Holidays
Tomato cheese fondue course plus homemade tomato sauce only in winter season! Cheese fondue of Jasmine cafe is different! 15 species and variety of vegetables, shrimp, sausage, baguette etc are fondue to special cheese sauce ♪
Course menu
<Cheese fondue course>
● Fresh vegetable salad
~ Please enjoy fresh vegetables that have been caught in a special dressing ~
● Daily soup
~ Soup made with fresh vegetables purchased on that day.I cooked thoroughly and thoroughly ~
● 15 kinds of tomato cheese fondue
~ Broccoli / Asparagus / Potatoes / Baby cones / Soybeans / Mini tomatoes / Red corsets /
Avocado / paprika / radish ... etc. Seasonal vegetables 10 kinds,
Five kinds of shrimp / scallops / sausage / baguette / chicken ingredients
Serve with jasmine original cheese ~
Chef's whimpest pasta
~ We will offer pasta that can deliver the best taste of the day on a daily basis ~
● Today's dessert
※ The contents may be changed by purchase.
Please acknowledge it.
For details, please contact the store.
★ + 300 yen with the following benefits ♪
【For celebration such as birthday · anniversary! Introduce the flow of the day】
1. Enjoy delicious dishes ♪ filled with stomach ♪
2. The lighting in the shop disappears, music is applied ...
3. Hold the special message plate to the table and surprise it!
4. The protagonist is surprised & moved, the staff take a commemorative photo
5. On the way home, put the photo you printed out in a frame
Present as a protagonist ★
※ If you have any other direction for production etc., please do not hesitate to contact us ♪
All-you-can-drink menu
· Shochu
· Black Isa Nishiki, Island Shoumon
· 1 beer only
· Super dry raw
· Whiskey · Tequila
· High Ball, Tequila Tonic, Tequila · Sunrise, Tequila Cork
· Lamb · Wine · Via
· Lamb · tonic, lamb · coke, myers · coke,, keel, wine cooler, chandigafu, mint beer, cassisvia
· Jin · Vodka
· Gin tonic, jin back, gin · grapefruit, jinlime, gin ricky, vodka tonic, screwdriver, moscommeureur, vodka lime, black rucian
·Non-alcoholic
· China Blue, Shanghai Lemonade, Mango Orange, Cherry Soda, Passion Orange, Cassis Orange, Grain Eyes, Gua Bapain, Coconut Pine ... etc.
·Soft drink
· Orange juice, grapefruit juice, pine juice, cola, ginger ale, oolong tea ... etc.
·liqueur
· Fuzzy Negble, Peach Oolong, Peach Cranberry, Shanghai Lemonade, Chiba and Lotonic, Pan Permusse Grape, Banana Milk, Campari Grape, Mango Yang Orange ... etc.
Coupons that can be used with this course
2018/12/20 update