Course details
Enjoy with modern & adult hideout 【JASMINE CAFE Wedding Second Plans Plan】 8 dishes + 2 hours [Drinking] ⇒ 3000 yen ~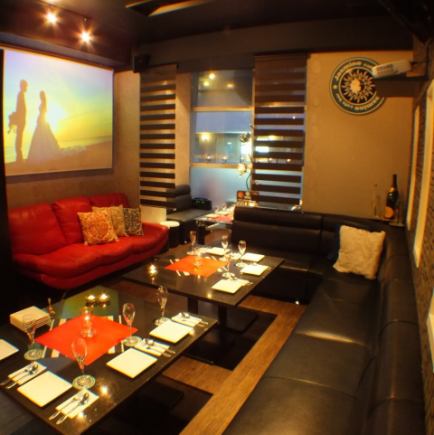 All-you-can-drink available

All-you-can-drink Asahi Super Dry! All kinds of cocktails! From Black Isa to Pan Permus Grape !!
Available days for reservation

Monday - Sunday - Public holidays - Holidays
【Complete support for at-home party and wedding party second party】 The warm and modern fashionable space wrapped in indirect lighting and "candle light" placed on the table is very popular with wedding party second party and party etc.A large projector is installed in the store, and the microphone and the sound equipment are enriched.Experienced staff, including champagne tower and cake entrance, will fully support you! Please do not hesitate to consult us.
Course menu
<Wedding Secondary Association Special Party Plan>
◆ 3 appetizers
◆ Salad
◆ Pizza
◆ Dessert
... Equal 8 items
★ Secretary Support Free Benefits ★
1. Congratulations to the bride and groom
2. Secretary 1 person free for over 30 people
3. Secretary 2 people free for over 40 people
4.15 persons ~ complete reserved OK
5. Free invitation letter
6. Create welcome board
7. Champagne tower or cake or fruit serving service
8. Second session before business hours OK
9. Draft beer (super dry) · Glass wine all you can drink
10. Cooking Request / Changeable
11. Takasago installation possible
12. Large Screen Usable
13. Darts available
14. Writing utensils free of charge lending
15. Acoustics, lighting and production services
16. Complete Bingo · Cards
17. Moderator proxy arrangement arrangement
18. Order karaoke
19. Balloon · Bouquet arrangement
20. Cheki lending free of charge
21. Cooking / drinks bringing in OK
22. BGM You can make your favorite songs flow.
23. Premium advance reservation OK
24. Smoking, non-smoking, smoking space setting
25. Progress table creation support
26. Drink service at pre-meeting
27. Change preparation
28. Present for main photographing and group photography
29. Air washer equipment
30. Store decoration support
31. Luggage storage (on the day)
All-you-can-drink menu
· Shochu
· Black Isa Nishiki, Island Shoumon
·beer
·Asahi Superdry
· Whiskey · Tequila
· High Ball, Tequila Tonic, Tequila · Sunrise, Tequila Cork
· Lamb · Wine · Via
· Lamb · tonic, lamb · coke, myers · coke,, keel, wine cooler, chandigafu, mint beer, cassisvia
· Jin · Vodka
· Gin tonic, jin back, gin · grapefruit, jinlime, gin ricky, vodka tonic, screwdriver, moscommeureur, vodka lime, black rucian
·Non-alcoholic
· China Blue, Shanghai Lemonade, Mango Orange, Cherry Soda, Passion Orange, Cassis Orange, Grain Eyes, Gua Bapain, Coconut Pine ... etc.
·Soft drink
· Orange juice, grapefruit juice, pine juice, cola, ginger ale, oolong tea ... etc.
·liqueur
· Fuzzy Negble, Peach Oolong, Peach Cranberry, Shanghai Lemonade, Chiba and Lotonic, Pan Permusse Grape, Banana Milk, Campari Grape, Mango Yang Orange ... etc.
2018/11/21 update